Explore holidays in Côte d'Azur
Describing the Côte d'Azur as merely glamorous is to undervalue its charms. Of course, resorts such as St-Tropez and Ste-Maxime have enticed decades of glitterati to their sandy shores, but there's far more behind the glitz and shimmer. 
Traditional villages appear on picturesque coastlines and unspoilt hilltops; there's Grasse, 'the perfume capital of the world', and the waterways of Port Grimaud, while Bandol has long been a seaside retreat for artists and writers. And along with the golden beaches, there are cliffs and mountains that make the Côte d'Azur area a far wilder story.
Discover the best of the Côte d'Azur in our handpicked luxury villas.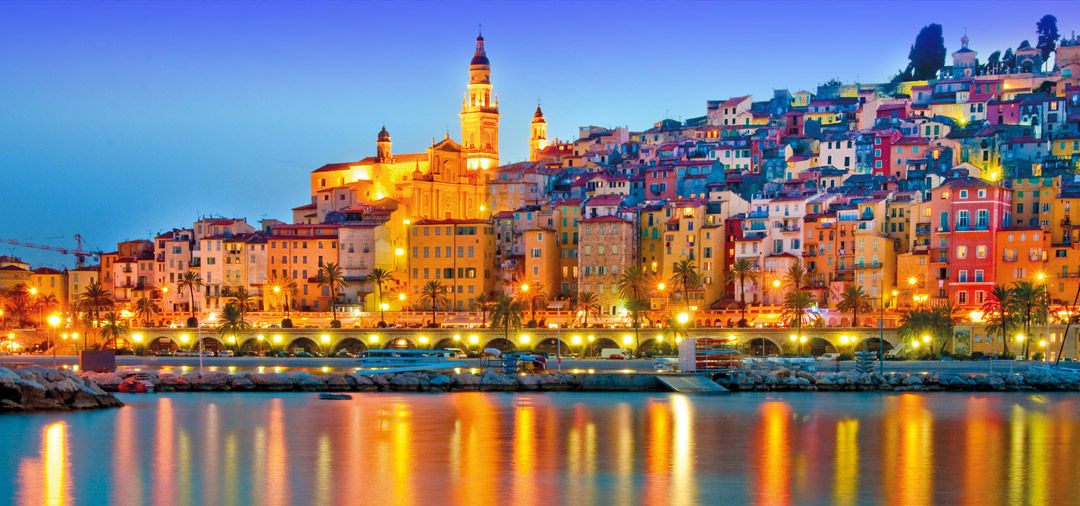 A selection of our holidays in Côte d'Azur
* Prices shown are for a seven-night stay at the lowest accommodation-only rate.
Our guide to Côte d'Azur
Introduction to Côte d'Azur
A land of contrasts
In The Talented Mr Ripley, the French Riviera is described as stretching from Toulon at its western extreme to Monaco in the east. Between the two, a string of A-list towns and charming fishing villages link arms to create the Mediterranean's most vibrant mix of cultures – as much a safe haven for tradition as for the liner-sized yachts that are drawn to these shores.
While there are no official boundaries for this iconic coast, Hollywood's definition is a fair one – and holds true the popular theory that the stretch of France turned to face Italy is either looking for style tips from its neighbours or perhaps showing them how the seamless pairing of glamour and tradition should really be done.
Where the famous come to play
Drawn here by a seductively warm climate, the aristocracy established the Côte d'Azur as 'a destination' in the late 19th century. They were soon outnumbered though, by artists and actors who made the Riviera as much a place to be seen in as to see.
Names like Cannes, St-Tropez and St-Raphaël – now immortalised in celluloid themselves – are as legendary as the stars who continue to flock here. But the area's penchant for showiness is surely most apparent in Monaco – the tiny principality nestled snuggly into the coast where a third of the population are millionaires.
A state of unbridled extravagance
Second only to the Vatican City in diminutive size, Monaco somehow squeezes all the world's showiness and glamour into just 200 hectares. Enclosed by France, this is a sovereign state in its own right, as an immaculate royal palace and pin-sharp daily changing of the guard serve to remind.
The five-storey yachts. The exclusive boutiques. The money. Nowhere does it quite like Monaco and embracing the principality's unashamed passion for the spectacle can be mesmerising. But don't even dream of leaving without first taking a peek inside Monte Carlo's legendary casino.
Off the beaten promenade
When the impact of eye-wateringly expensive cars and impossibly beautiful people begins to fade, drama can instead be found in some of the Mediterranean's most inspiring scenery.
From the picturesque fishing village of Cassis, you can strike out along the coast towards Marseille to admire France's highest sea cliffs and the spectacular views around the hiking trails of the Calanques. The lovely little seaside town of Agay – memorable for its views over the mountains and red cliffs of the surrounding Massif de l'Esterel – provides another unforgettable stop along one of the most scenic coast roads in France.
Away from the sea
The Azure Coast this may be, but the countryside it touches is every bit as special as the glamorous seafront. Venture inland and you'll find that most desirable of old French provinces, Provence; a granite-flecked landscape dotted with lavender fields where medieval villages cling to cliff sides and where famous artists – Picasso, Van Gogh, Cézanne – stayed for the views.
The rustic appeal of Provence is a timeless one and a morning spent wandering through a cool forest of truffle oaks before enjoying a glass of something rosé in an ancient village square is enough to remind you why. It's a place to recharge before heading back to the luxurious buzz of the coast.
At a glance
Currency

Euro (€)

Flight Time

2 hours

Time difference

+1 hour

Language

French
Food & drink
A taste of the Côte d'Azur
Nowhere in the world will you taste a bouillabaisse to rival that of the Côte d'Azur – the spiritual home of this gastronomic celebration of the sea. Inevitably, opinion is split over which might be the most authentic recipe, but scorpion fish are a must – as are lashings of spicy mayonnaise called rouille dolloped atop crunchy toast.
Salade niçoise is another of the region's famous exports – a riot of colour hailing from Nice, as the name might suggest. And this is also the birthplace of ratatouille and a plentiful heap of this vegetable casserole is great on its own; even better topped with pork cutlets. Being on the fringes of Provence, look out for the daube too – a local stew of slowly braised beef with red wine, onions, herbs and garlic, generously served with pasta.
In France, don't forget, cheese beats dessert to the table and the local goats' cheese (chèvre) should arrive as a sublimely creamy slab – perfectly paired with apricots, peaches or figs.
Finally, if you've room for it, the sugar-coated, orange cream-filled brioche known as Tarte Tropézienne is a must. According to legend, this specialty of the region was named by Brigitte Bardot when she was filming in the area in the 1950s.
French tipples
For all the magnificence of French wine, it's pastis that clinches 'national drink' and, having been invented in the south of France, it's never more appropriately ordered than on the Côte d'Azur. This star anise-flavoured aperitif may be the proper way to ease into things, but thoughts soon return to wine and, in Provence, the rosé it's famed for.
Here, Grenache, Syrah, and Mourvèdre create a refreshingly dry style, the best known being produced in Bandol near Marseille and Bellet close to Nice.
Before any of these, though, you haven't really experienced the Côte d'Azur until you've looked out over a shimmering sea while sipping a ridiculously priced cocktail.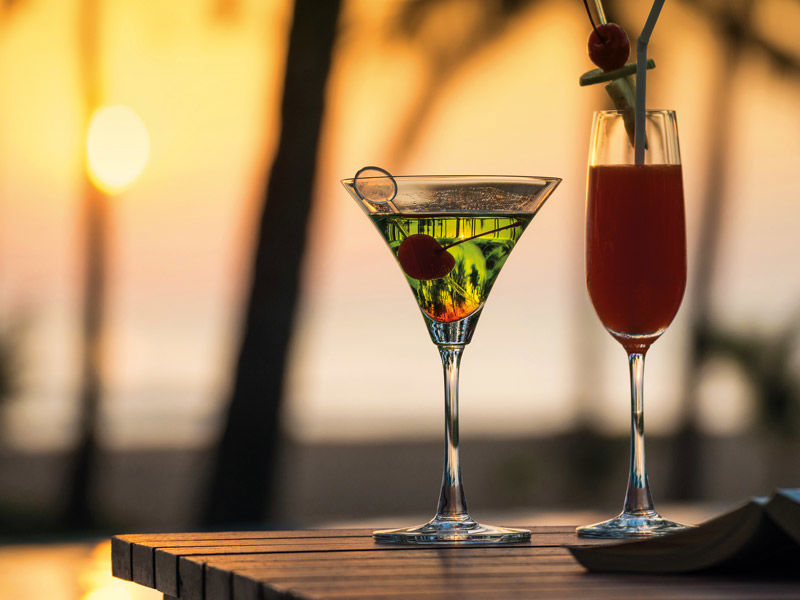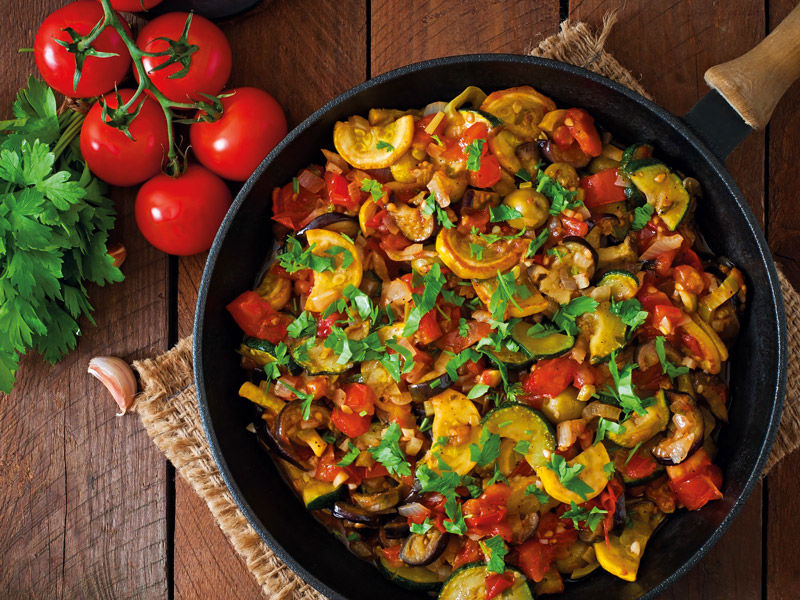 Beaches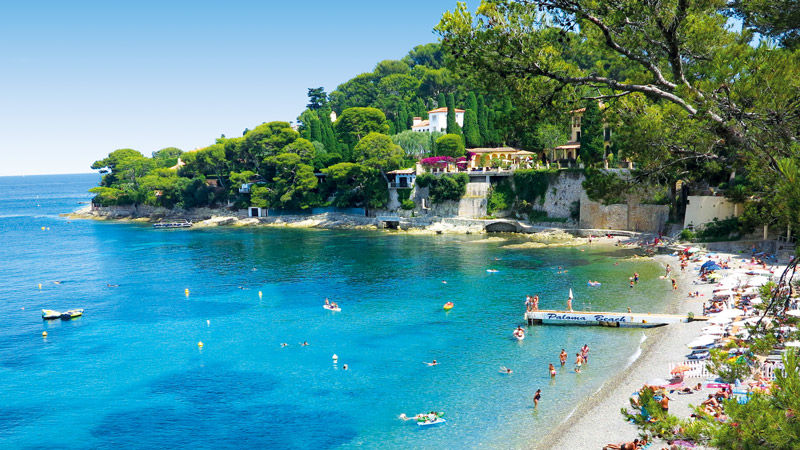 St-Jean-Cap-Ferrat
Below the village of Saint-Jean-Cap-Ferrat, this idyllic bay of crystal clear-water deserves its high-brow audience. Swim out for wonderful views of palatial mansions.
Getting there…
Park in the village and head on foot towards Paloma Point, walking down the short footpath to the beach.
Footnotes…
Sunbeds and parasols can be hired and, in the evening, a rather excellent restaurant serves the catch of the day at tables set on the beach itself.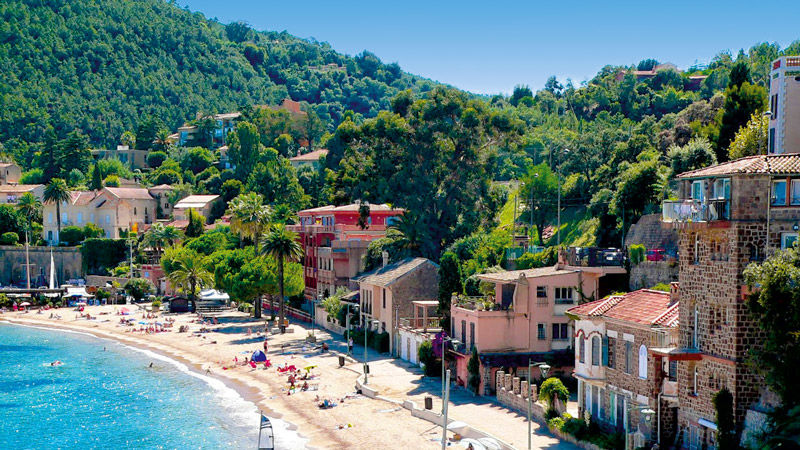 Théoule-sur-Mer
Avoid the busyness of Cannes' main beaches by taking the short drive round the bay to this pretty little village. Golden sand and views out to the Îles de Lérins await.
Getting there…
Head west from Cannes to follow the bay. The beach is 2km south of the Cannes Golf Club.
Footnotes…
A few bars and cafés at Théoule-sur-Mer offer welcome respite from the sun.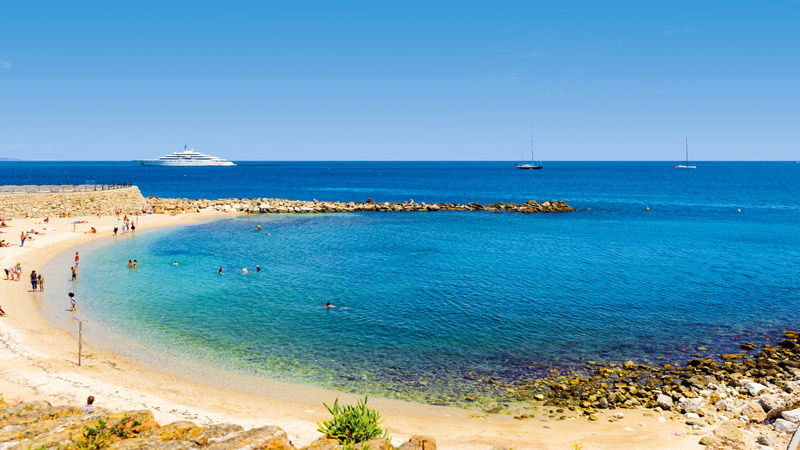 Cap d'Antibes
Glamorous Cap d'Antibes and its 48 beaches have been hosting the world's rich and famous for a century. La Garoupe offers the softest sand and views to Nice.
Getting there…
Follow signs for the cap from Antibes town – 10km east of Cannes. Arrive early and you'll find free parking on many of the roads.
Footnotes…
A blend of exclusive private and public beaches, La Garoupe made headlines recently by imposing the first 'no selfie' zone in France.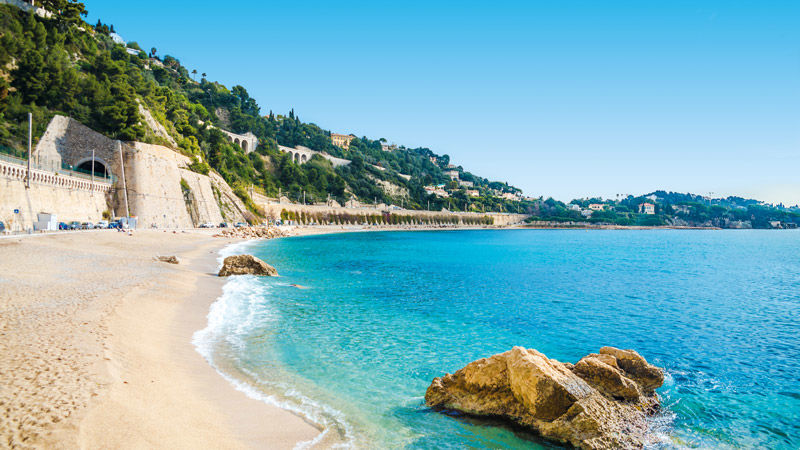 Villefranche-sur-Mer
This typical fishing village sits a few kilometres outside of Nice and its beaches are relatively quiet. The fine sand of Plage des Marinières sits at the north end of the bay.
Getting there…
From Nice, follow the M6098 coast road heading east. Park at the far end of Villefranche for easy access to the beach.
Footnotes…
Unlike many of the resorts on the Côte d'Azur, Villefranche has no private beaches, so the entire beachfront here is free and open to the public.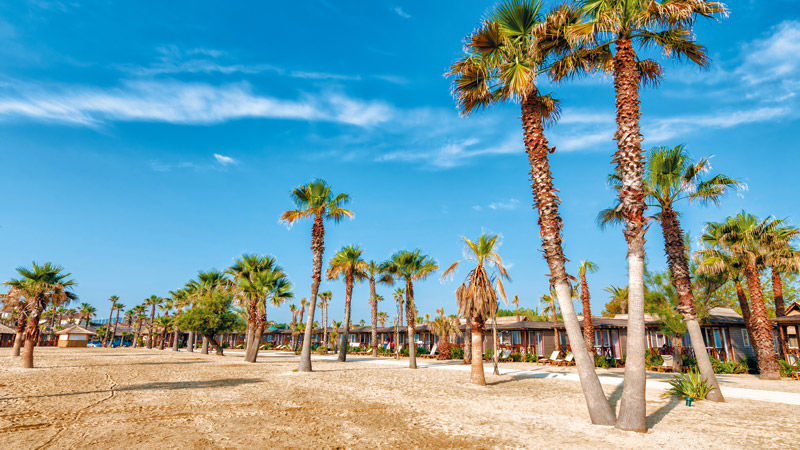 Port Grimaud
Snuggled up against Saint-Tropez, this seaside town is built on reclaimed marshland. Criss-crossed with canals, it's popular with boat owners, while its stretch of golden sand attracts sun-worshippers.
Getting there…
Head south from Sainte-Maxime on the coast road, or east from Saint-Tropez on the D98A.
Footnotes…
Shallow and gently sloping, the water here is perfect for families. Further out, windsurfers and kayaks provide more energetic fun.
Mala
This magnificent stretch of white sand is as beautiful as the people who flock here to sip cocktails. The lush Cap Mala encloses one end, while steeply rising cliffs wrap round the other.
Getting there…
Parking can be a problem here; your best option is to catch the train to Cap d'Ail station above the beach.
Footnotes…
While the 100 steps down to the beach may help preserve its natural beauty, they also make it unsuitable for families with small children.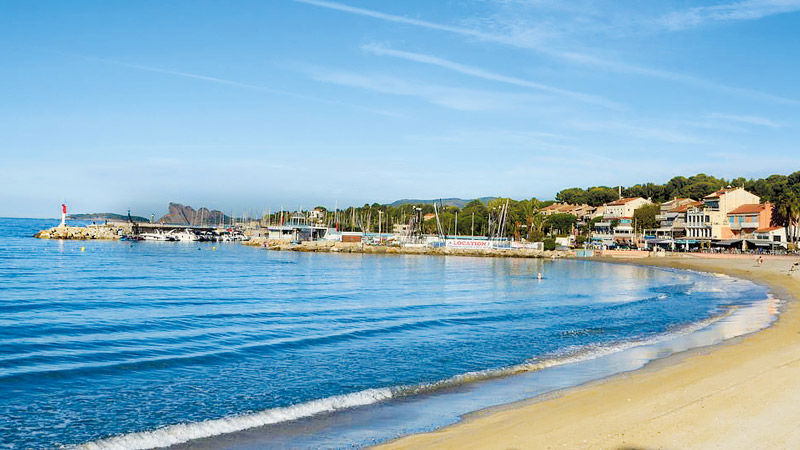 Les Lecques
The popular beach of Saint-Cyr-sur-Mer, pretty Les Lecques, is 2km of soft sand surrounded by wooded hills and stunning scenery. Nautical activities abound, from sea kayaking to water tubing.
Getting there…
Take the A50 (heading east from Marseille or west from Toulon) and exit for La Bourrasque (exit 10). Follow the signs to Les Lecques on the D559.
Footnotes…
There's no shortage of restaurants and cafés in Saint-Cyr-sur-Mer and the best come with memorable views across the bay.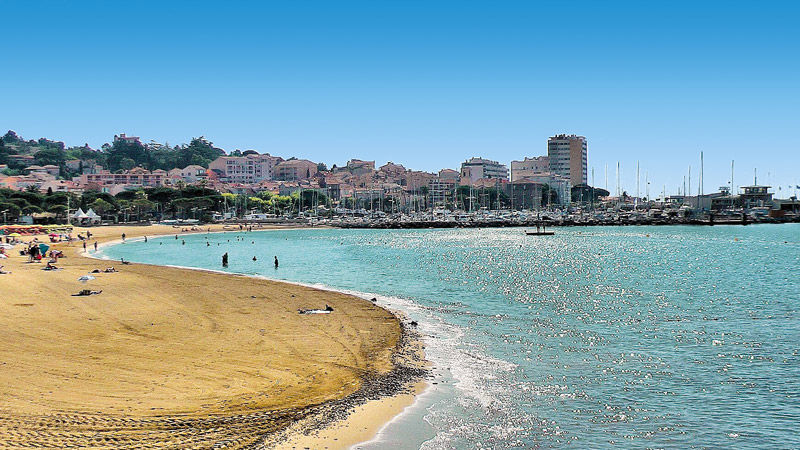 Ste-Maxime
Clean, white sand edges a beautiful bay of crystal-clear water, just round the headland from Sainte-Maxime town. A few rocky outcrops provide interesting snorkelling opportunities.
Getting there…
Head east from Port Grimaud or west from Saint-Raphaël on the coast road (D559) and the beach is around the headland to the west of Sainte-Maxime.
Footnotes…
The water here is shallow, making this a great beach for little ones. There is also ample parking along the coast road, a short walk from the beach.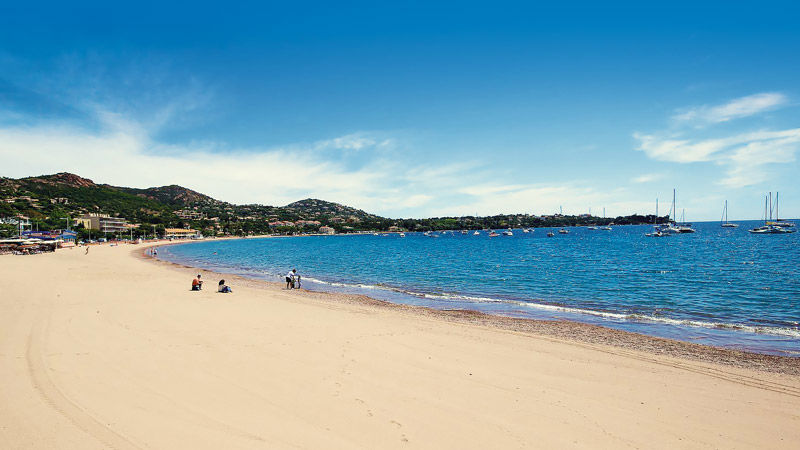 Agay
Wrapping itself round a natural bay, Agay is a long beach backed by a string of cafés and shops. A small headland separates the 'main' Agay beach from that at La Baumette to the east.
Getting there…
Head east from Saint-Raphaël or west from Cannes on the coast road (D559). 
Footnotes…
Agay is smaller and quieter than its more famous neighbours along the coast, but it's perfect for children and a small port at the mouth of the Agay River adds extra interest.
Things to do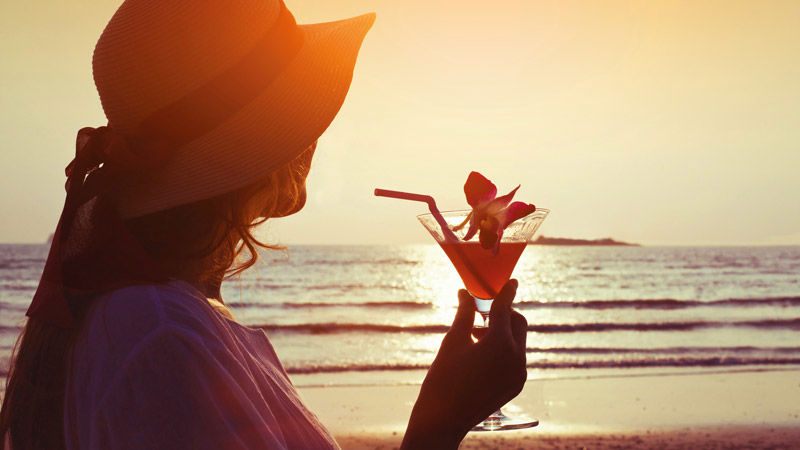 Sip exotic cocktails with the glitterati
The number one activity on the Côte d'Azur is simply to be here, soaking up the glamour. Choose your town, choose your table and allow yourself time for a little people watching – in the world's premier people-watching spot.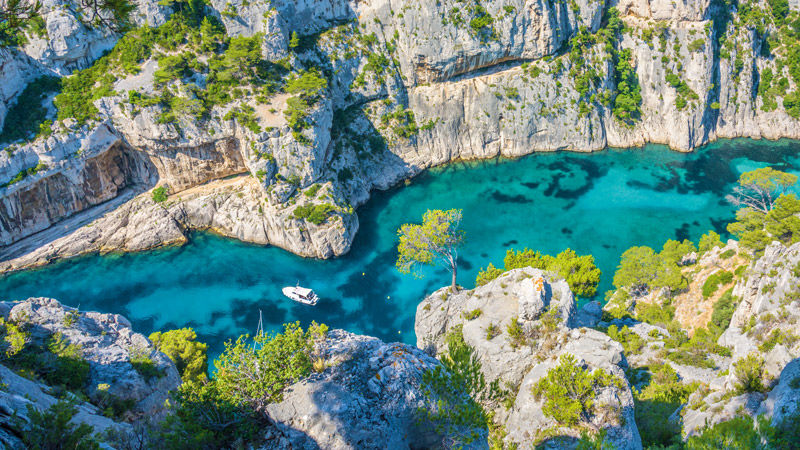 Take in the magnificence of the Calanques
These fjord-like inlets offer spectacular swimming in deep blue water held between limestone cliffs. Many have their own beaches which provide perfect picnicking spots: your own private, secluded bay for the afternoon.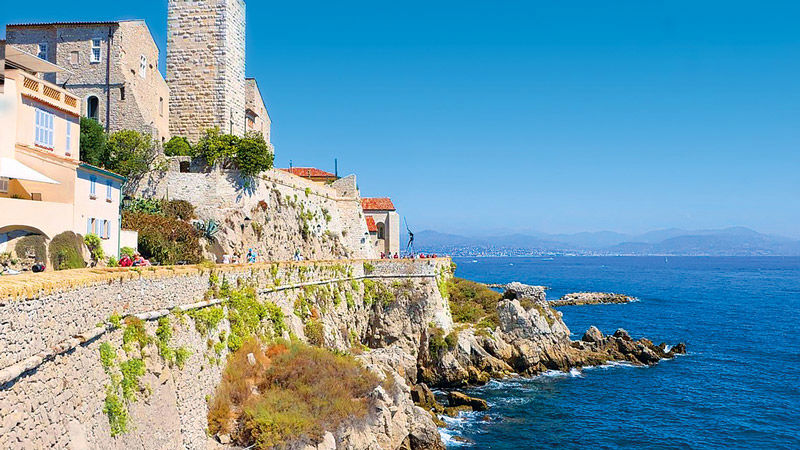 Critique a Picasso
The pride of Antibes, le Musée Picasso houses an extensive collection of paintings and sculptures, most donated by the artist himself when he lived here for a while in the 1940s. Art lover or not, the views from the Château Grimaldi are to die for.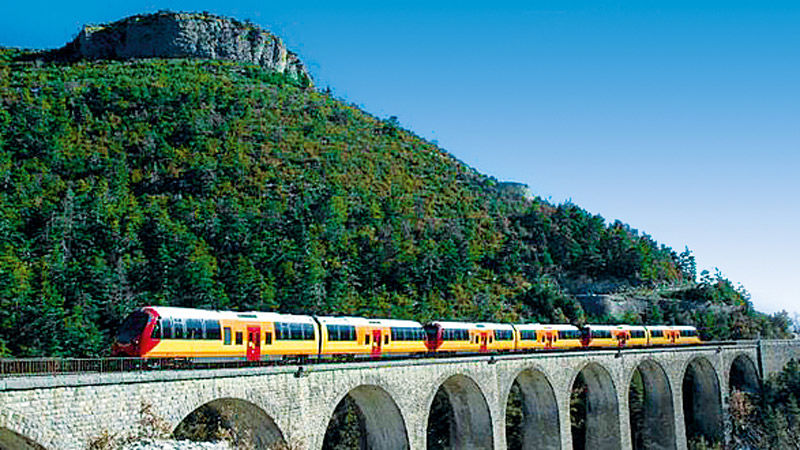 Make tracks for Provence
The Chemins de Fer de Provence is a narrow-gauge railway that chugs its way between Nice's Gare du Sud station and the town of Dignes-les-Bains. Passing through breathtaking mountain scenery, the train calls at several stations, including the pretty fortified village of Entrevaux.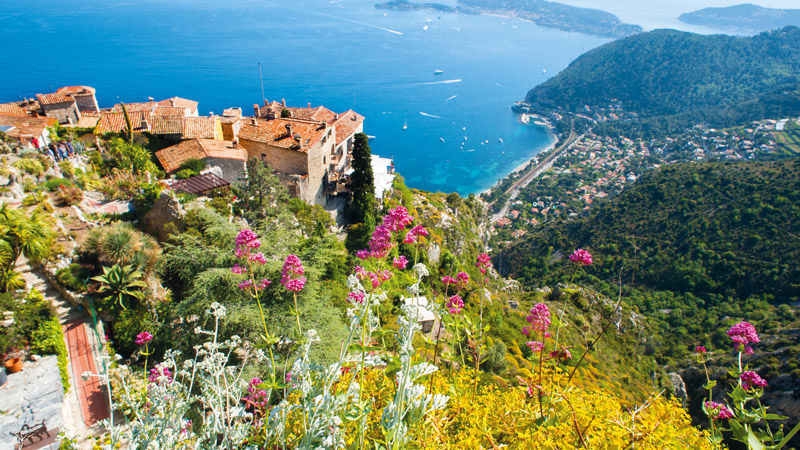 Get a little bit exotic
Crowning the perched village of Èze, high in the mountains, the stunning gardens of Le Jardin Exotique hang precariously between sea and sky and come with exhilarating views of Monaco, Nice and (on a clear day) even Corsica in the distance.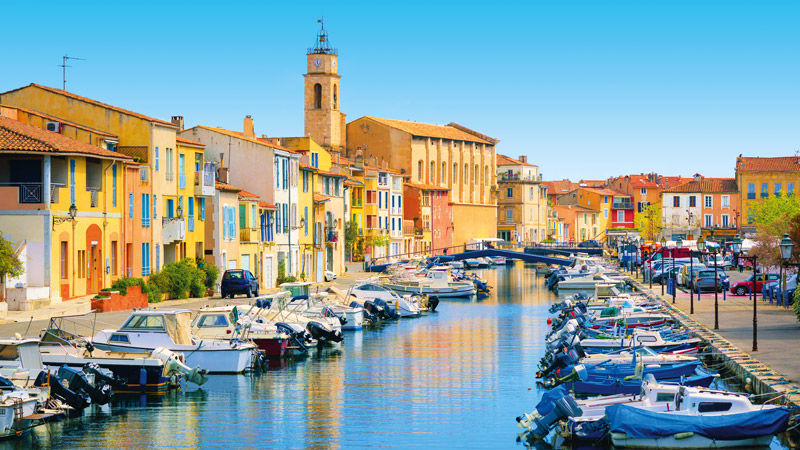 Drift between boutiques
Just west of Marseille, Martigues is a town of three islands divided by canals laced together with bridges. Its lanes are crammed with stylish boutiques, and pedestrianised quays make ideal spots for an aperitif or sunset supper.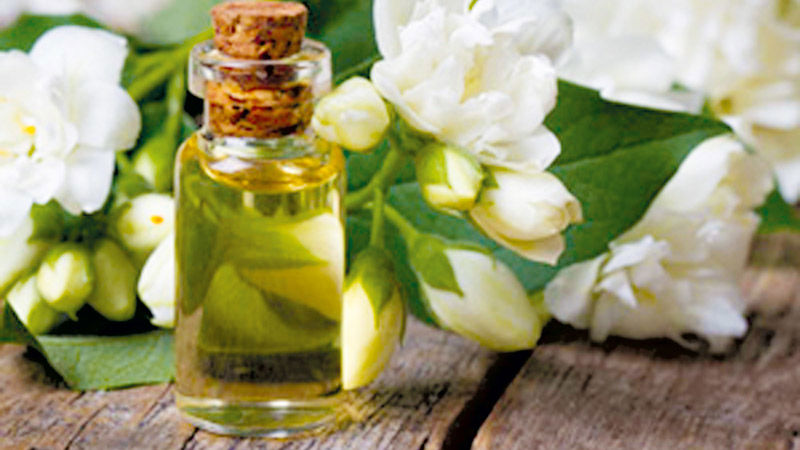 Come up smelling of roses (and jasmine)
A short drive north from Cannes reveals the 'perfume capital of the world'. Grasse is home to the very best 'noses' and its perfumeries – offering fascinating tours – are where fragrances, including Chanel No.5, are made.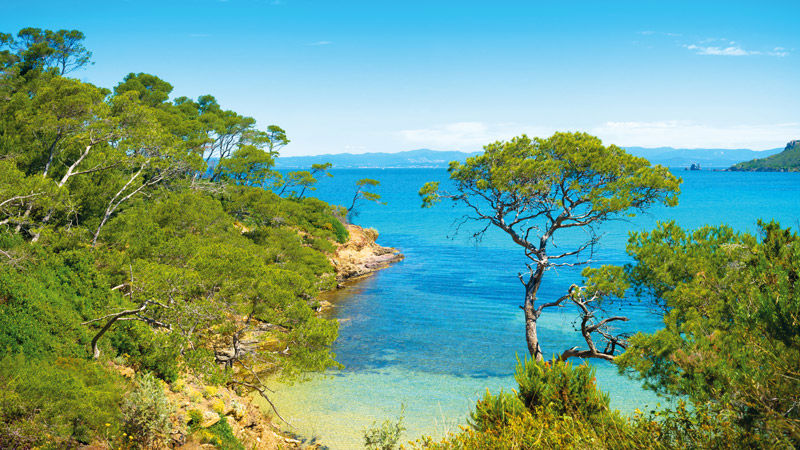 Explore the golden isles
Two kilometres – and a million miles – from the headland at Toulon, the Îles d'Hyères are a group of pine-clad islands known as 'The Golden Isles'. The closest, Porquerolles and Port-Cros, provide the most relaxing escapes from the crowds, with clear waters and perfect beaches.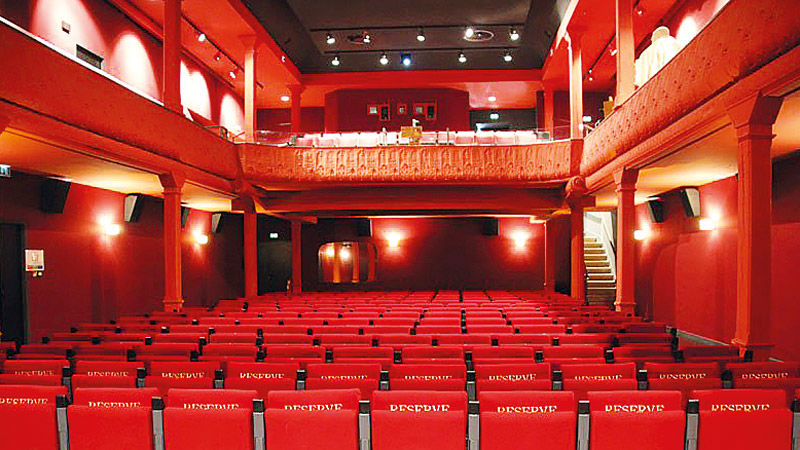 See the world's first ever silver screen
In the unassuming little town of La Ciotat sits the world's oldest cinema, restored to its former glory. Imagine the viewers of the first ever movie fleeing the cinema when they thought the train in the film was heading straight for them.
Helpful phrases
| | |
| --- | --- |
| Hello | Bonjour |
| Goodbye | Au revoir |
| Please | S'il vous plaît |
| Thank you | Merci |
| Yes | Oui |
| No | Non |
| I am well, thank you | Ça va bien, merci |
| Nice to meet you | Enchanté |
| I don't understand | Je ne comprends pas |
| Do you speak English? | Parlez vous anglais? |
| I don't speak French very well | Je ne parle pas très bien français |
| My name is… | Je m'appelle… |
| The bill please | L'addition, s'il vous plaît |
| How much? | C'est combien? |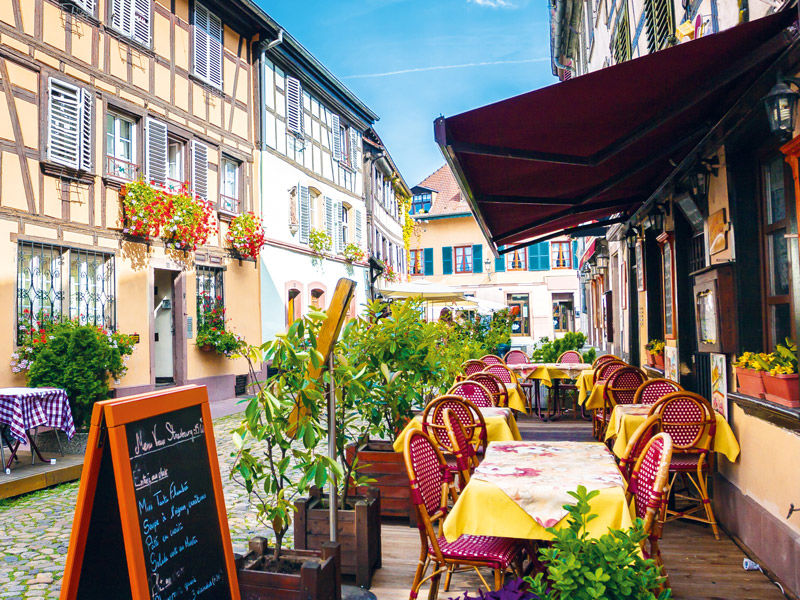 Events
What's on in May
17-28 May
Festival de Cannes may draw in crowds of film professionals, but the outdoor Cinéma de la Plage screens a different film each night, including premieres.
25-28 May
Formula 1 makes its way to the French Riviera for the Monaco Grand Prix – watch the drivers pass luxurious yachts as they whizz their way through the track.
31 May-4 Jun
Les Voiles d'Antibes celebrates classic yachts. There are themed events, exhibitions and concerts in Antibes too.
What's on in June
Every Jun
Usually towards the end of the month, Festival d'Aix-en-Provence takes place – an open-air international music festival dating back to 1947.
5 Jun
Whit Monday. The end of the Christian season of Lent and a public holiday throughout the country.
10-12 Jun
Attend cooking classes and demonstrations with chefs from around the world at Les Etoiles de Mougins – the International Festivals of Gastronomy and Lifestyle.
Mid Jun
The Jumping International de Cannes is a great equestrian event with show jumping at its heart.
19 Jun-5 Aug
Chorégies d'Orange is a celebration of all things opera. With various performances, check the dates and book online at choregies.fr.
What's on in July
Every Jul
Rencontres Internationales de la Photo, showcases new work on various heritage sites, spanning the summer months.
The Avignon Festival brings together the contemporary performing arts throughout the month of July – with around 300 performances.
19-28 Jul
Jazz artists from around the world flock to Marseille Jazz des Cinq Continents. With a variety of ticket packages, make sure you pre-book online at marseillejazz.com.
21 Jul-17 Aug
Festival International de Piano de la Roque d'Anthéron is a classical music festival that focuses mainly on the piano, covering all styles of music – including electronic music.
What's on in August
15 Aug
Assumption Day. The Roman Catholic celebration of Mary, mother of Christ, being taken to Heaven sees banks and many businesses closed.
Mid Aug
Festival de Jazz de Ramatuelle focuses on swing jazz, but there's a free fringe festival that promotes local musicians.
What's on in September
12-17 Sep
Just under 600 yachts are showcased at the Yachting Festival de Cannes, spread between the Vieux Port and the Port Pierre Canto.
End Sep
Set in the iconic Port Hercules, the Monaco Yacht Show is an event where you can admire, visit and purchase one-off superyachts. 
End Sep
Les Voiles de St-Tropez hosts racers and sailing enthusiasts as they compete in the bay of St-Tropez – you can expect to see modern sailing boats alongside traditional yachts.
Towns & villages
Nice
The claimant to the title 'capital of the Côte d'Azur' is Nice – a delightful city standing watch over a magnificent bay edged with the famous 'Promenade des Anglais'. A vibrant old town, extravagant Belle Époque architecture and a bustling port – Nice has it all. And, as if a little of that Côte d'Azur swagger has rubbed off on the city, its museums can claim to house the richest collections of French modern and contemporary art outside of Paris.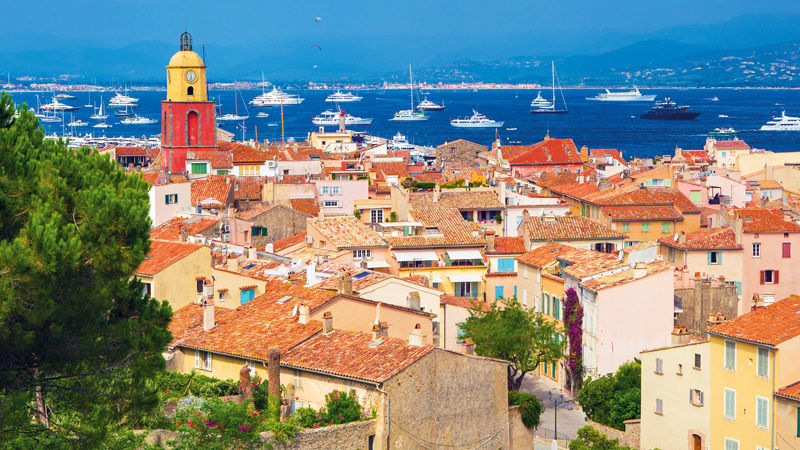 St-Tropez
Arguably the most famous of the Côte d'Azur megastars, sexy, sizzling St-Tropez has been hosting the international jet set for decades. In the high season, it sees half the world and their entourage and, what beneath it all is a quaint seaside fishing village, is lost beneath a hoard of eccentricity and flounciness. But this is St-Tropez. And this is how it should be. Sip pastis as you watch super-fast cars disembark super-sized yachts, then wander exclusive, winding lanes before escaping to the calmness of the town's fishing quarter.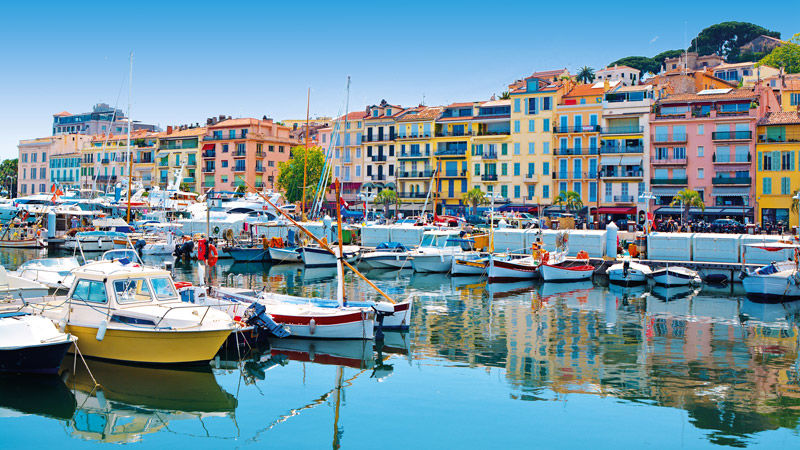 Cannes
To stroll La Croisette – the world's most iconic promenade – is to follow in the footsteps of film stars who have been drawn to Cannes for decades. The town's annual film festival revels in its international renown and singles the place out as Hollywood's far classier cousin. When the spectacle descends, Cannes is ready; its private beaches, exclusive restaurants and iconic hotels braced for over-excited revelry. But, aside from the high drama of celebrity spotting, there's a graceful side to Cannes that shouldn't be missed.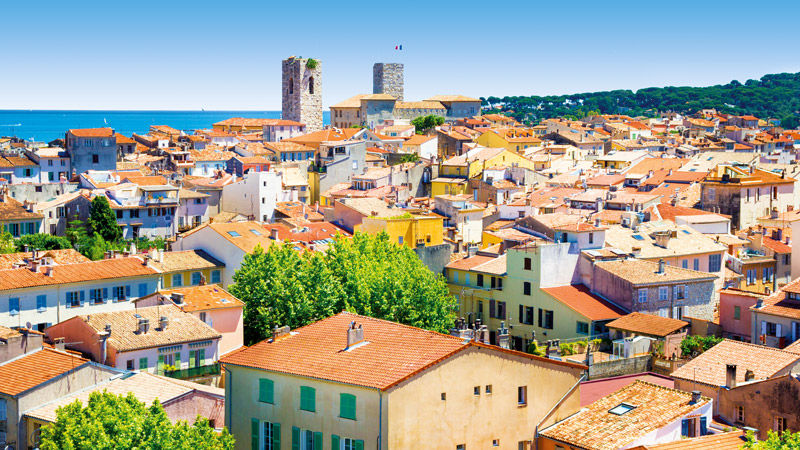 Antibes
Sandwiched between Nice and Cannes, confident little Antibes exudes none of the pretensions of its neighbours; presenting itself instead as an unspoilt, rustic town, rich in Greek origins. It's almost conjoined with art deco-inspired Juan-les-Pins; the two sharing responsibility as gatekeepers to the exclusive Cap d'Antibes peninsula. But, for many, the real draw is the Château Grimaldi where Picasso lived for a while – and where one of the largest collections of his work can still be viewed.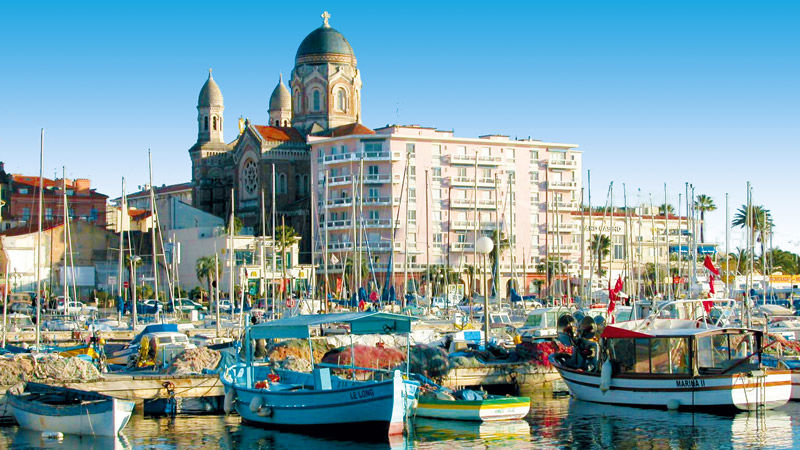 St-Raphaël
To holiday in classy Saint-Raphaël is to do as the wealthiest of Romans did 2,000 years ago. Unsurprisingly, this is one of the oldest resorts on the Côte d'Azur and, by today's standards, one that ticks along to a slightly slower rhythm. A delightful old town, a Regency-era seafront and a smart harbour lend Saint-Raphaël an effortless sophistication. And it deserves to be savoured – une glace in hand – while wandering the town's quaint, narrow streets.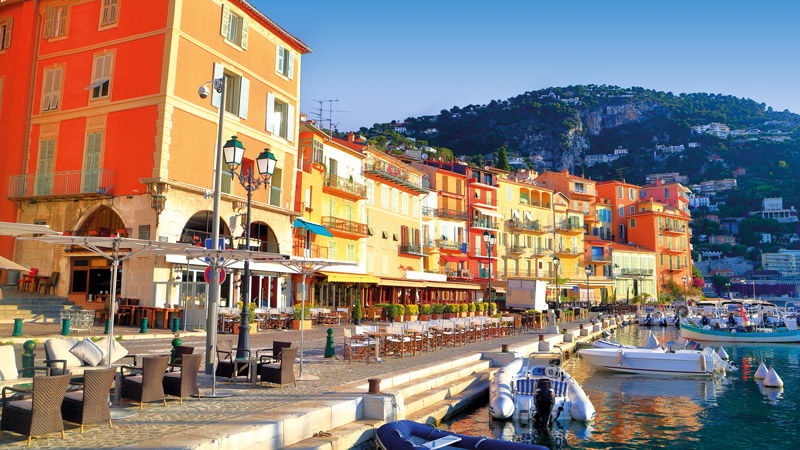 Villefranche-sur-Mer
Banking steeply from sea to hills, the streets of beautiful Villefranche-sur-Mer are stacked one on top of the other, each standing higher on its tiptoes than the last for a good view of the picturesque bay below. A small fleet of fishermen operate from the harbour here and their comings and goings make for relaxing entertainment at one of the town's many cafés or restaurants. But the best view is from a boat looking back at a seafront painted in oranges and yellows to complement a perfectly azure sea.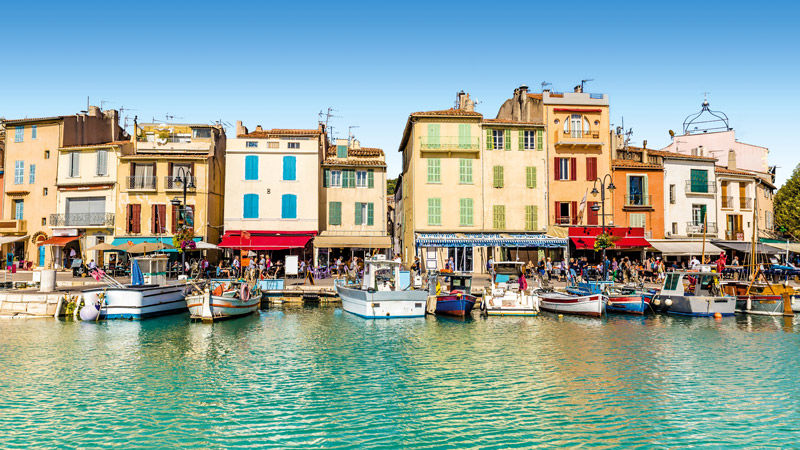 Cassis
Nestled in the heart of the Calanques National Park, pretty little Cassis offers a glimpse into the daily life of a traditional French fishing village. From a picturesque port lined with restaurants, cafés and shops, a wander through the town's narrow streets reveals charming buildings and a shady square – home to the elegant Hotel de Ville, where locals would spend lazy summer evenings playing petanque in days gone by.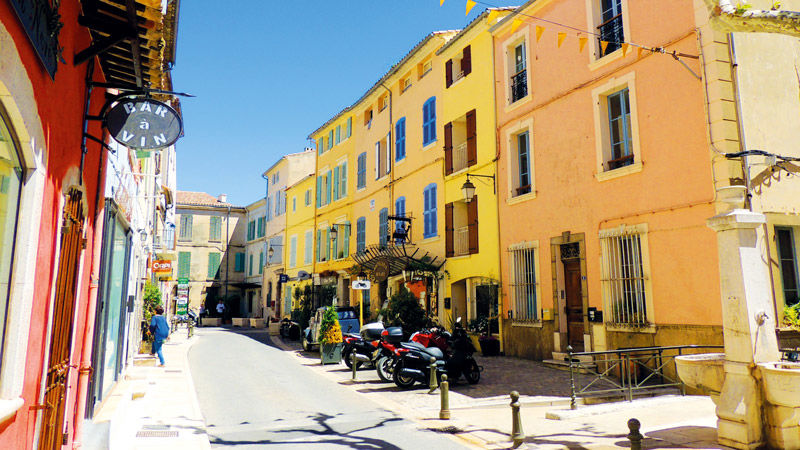 La Cadière-d'Azur
Small but perfectly formed, La Cadière offers welcome respite from the glitz of the area's coastal resorts. This is Provence at its most typical; a place where flowers tumble from medieval houses and secret alleyways offer glimpses over rolling vineyards to the Mediterranean beyond. Sheltered from the prevailing north wind, much of the town huddles on the southern face of its hill – at the top of which sits the 16th-century Église Saint Andre.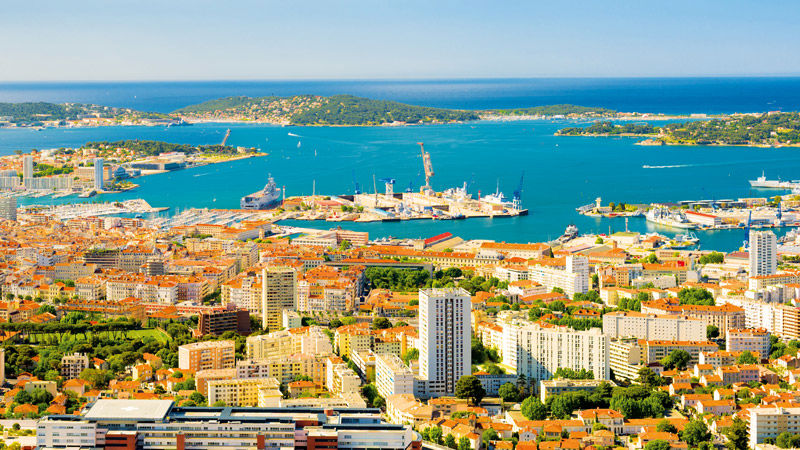 Toulon
The smell of lavender may fill the air on market day in Toulon, but never just for the benefit of tourists. This is real France, where the locals go about their business as they've always done – and where well-kept port-side cafés welcome out-of-towners without feeling the need to over-eagerly tout for their business. The heart of the city is the Vieille Ville – an atmospheric Old Town where a maze of streets is packed with designer shops and quaint medieval houses. Take the cable car up Mont Faron for panoramic views of Toulon and the Var coast.