Explore holidays in Zakynthos
With a name rooted in the native hyacinth, the beautiful island destination of Zakynthos is much loved for its scenery. Roads meander through pinewoods and vineyards, a contrast to golden beaches; while walks take you past monasteries, whitewashed chapels and forgotten Venetian ruins.
Luxury holidays in Zakynthos, also known as Zante, are as much for lovers of nature, art and history as for beach-seeking families with children.
A selection of our holidays in Zakynthos
* Prices include seven nights' accommodation, flights and transfers/car hire, based on the lowest rate for maximum occupancy.
Our guide to Zakynthos
Introduction to Zakynthos
A land of ancient beauty
The enchanting island of Zakynthos was named after the son of King Dardanos of Troy. In Homer's Odyssey, the Greek writer and poet tells us of the prince's arrival in 1500 BC – when he 'freed the land of snakes and built his Acropolis'. Of course, the ruins of the mythical temple will never be found, though a more romantic place to go on your own quest to find them is hard to imagine. Homer's home country will soon have you hooked and returning will simply become a matter of when. 'For me there is no place sweeter to the sight than my native land,' he wrote. Apt words indeed.
The flower of the east
Zakynthos remains among the least developed of the larger Greek islands. Bustling beaches are easily outnumbered by quiet coves and secret bays, enticing would-be castaways to an afternoon of blissful solitude or perhaps a little rock-pool exploration.
The interior of the island is a lush expanse, the serendipity of the south and drama of the north losing pace in equal measure as each submits to the gently undulating plain between. Listen carefully here, they say, and you might hear the god, Apollo, playing his lira under a bay tree, putting the island's beauty to music.
Zante by name…
Hugging a sweeping bay on the east coast, Zakynthos Town is the epicentre of all things governmental, commercial and cultural. Bookended by the island's port (to the south) and the ancient church of Agios Nikolaos tou Molou (to the north), the thriving heart of town beats down by the waterfront.
If Zante – as the town's alias goes – has a centre, the vast square of Agios Dionysios is surely it. The buildings here rose from the rubble of the massive 1953 earthquake, their grandeur and refined style an echo of Zakynthos' Venetian rule and befitting of an island capital.
Children come first
The southern peninsula went blissfully unnoticed when tourists came looking for a home from home. Here, a Greece of days gone by ticks along behind Mount Skopos and secretly luxuriates in the heat to the gentle lap of waves against golden sands.
As the sun shines on the peninsula, so generous hospitality shines on all who pass by. The locals dote on their visitors – with children the real guests of honour. Cafés and tavernas in the area are unanimous in their resolve to provide exciting play areas for little ones which, in turn, offer parents the opportunity for unhurried conversation.
Caretta caretta
Gerakas Beach is one of the most important conservation areas in the Mediterranean. A stunning, pine-fringed, horseshoe stretch of golden sand, forms part of the Marine Park Conservation Area and is a rare nesting site for the loggerhead turtle, which is currently teetering precariously close to extinction.
The caretta caretta hatch by the hundreds on the beach every year. Occasionally, they make their appearance in the daytime, allowing luckier sunbathers to witness the special event and urge a hatchling on as it makes its way from sand to sea.
At a glance
Currency

Euro (€)

Flight Time

3 hours 30 minutes

Time difference

+2 hours

Language

Greek

Visa required

Not for UK citizens
Food & drink
A taste of Zakynthos
As is the Greek way, food in Zakynthos is prepared with locally sourced, seasonal ingredients, many organic, using simple recipes with exquisite results. Hot and cold starters are generally shared, in preparation for a feast of slow-roasted meat – lamb, calf, pork or chicken – or grilled fish. Stuffed rabbit cooked in wine is an island favourite and look out for skordostoumbi melitzana (made with aubergine and garlic) and ladotiri, an oiled cheese unique to Zakynthos, as well as the local olives and wine.
Dessert isn't usually served in restaurants – at least not to the locals. Instead, a sweet treat grabbed from a bakery or ice cream shop passed on the way home is the done thing. Island specialties are recognisable for their almond bias and, if you've got a sweet tooth, bougatsa (filo pastry stuffed with creamy custard and covered with icing sugar and cinnamon) and pasteli (bars of caramelised sesame seeds with home-produced honey) deserve some attention.
Zakynthian tipples
The regional wine of Zakynthos is Verdea, which has been in production here since around 1800. A blend of various grapes, this white table wine is amber in colour, spicy in taste and more than a little punchy in alcohol volume.
Eating locally
Zakynthos Town boasts some excellent fish tavernas and freshly caught and served with a sea view is the best way to enjoy the popular Ionian sea bream, which makes the waterfront eateries around the port a great choice.
The romantic and rustic Porta Roma beach has a couple of tavernas serving fish and meat straight from the grill and, on Banana beach, there are some cosmopolitan options with more international menus. For a table with a view to die for, try Keri village on the southwest coast.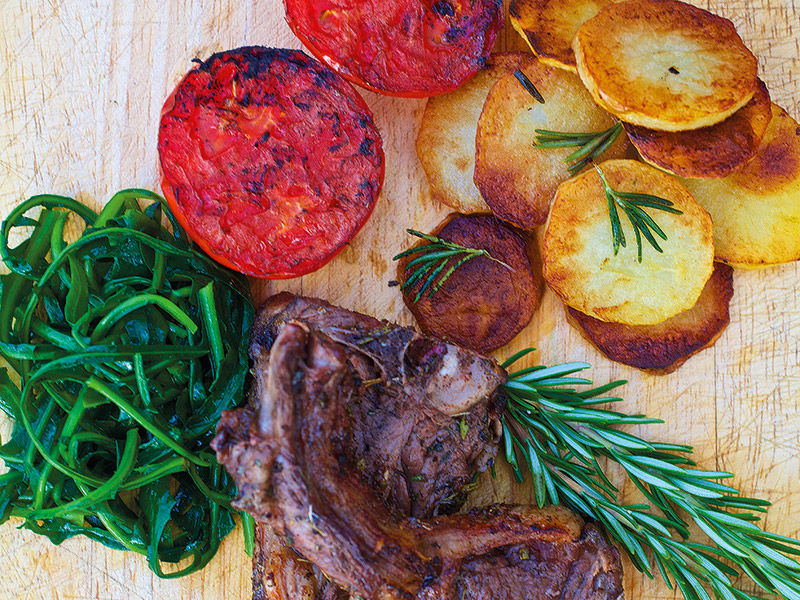 Beaches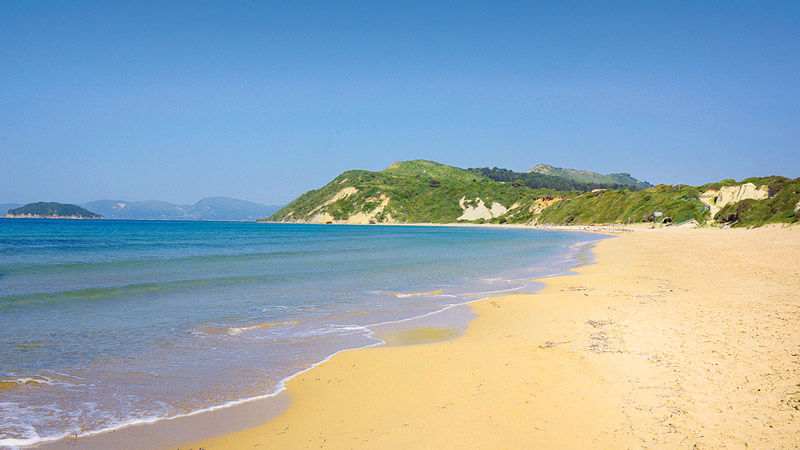 Gerakas
2km of perfectly unspoilt, golden sand shelving gently into turquoise water. A protected marine park environment, the beach is a nesting ground for loggerhead turtles, which, in August and September, can occasionally be seen emerging from the sand.
Getting there...
Head to the south east corner of the island and approach the beach by way of the marine park hut.
Footnotes...
There are some sunbeds and parasols for hire, but no tavernas on the beach itself.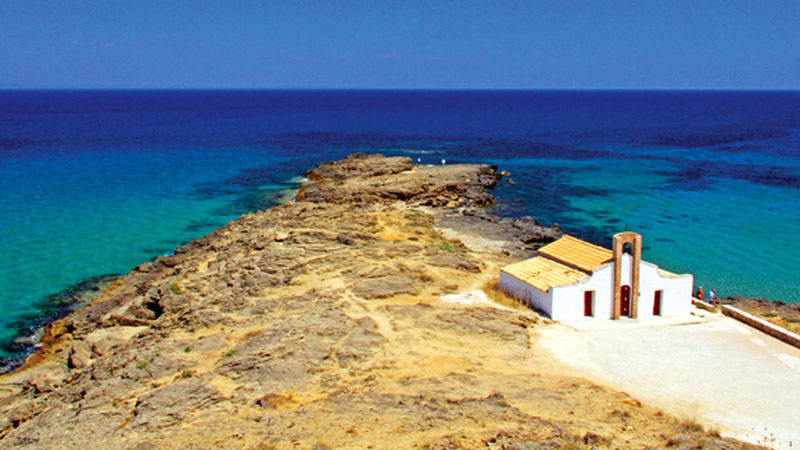 Agios Nikolaos
A lively, family-friendly beach with pedalos and kayaks. A pretty church at one end offers a little respite from the sun. Arrive before midday to beat the rush.
Getting there...
An easy ten-minute drive from Periyali brings you to the beach's dedicated car park.
Footnotes...
Sunbeds and umbrellas are available for hire and there's a good restaurant and bar nearby.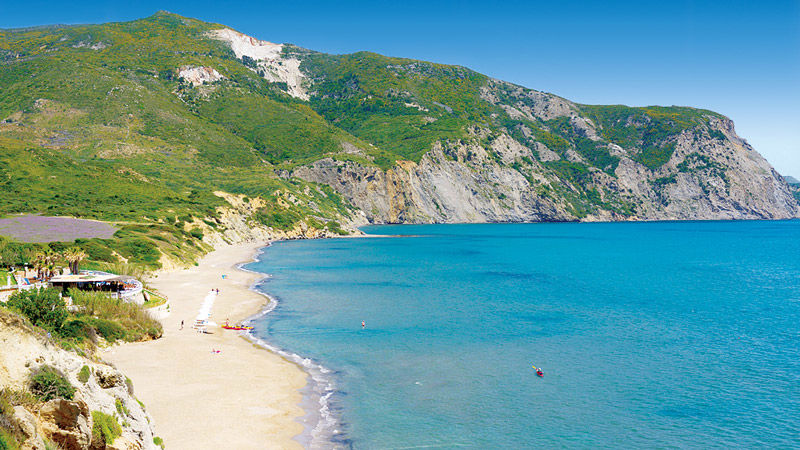 Kalamaki
Kalamaki is a busy resort, but this sandy beach is part of the Marine Park (which goes from Gerakas to Keri in one long sweep) and feels pleasantly undeveloped.
Getting there...
A 40-minute drive from Periyali towards Zakynthos Town.
Footnotes...
Impressive rock formations can be explored here and there's a traditional taverna right on the beach.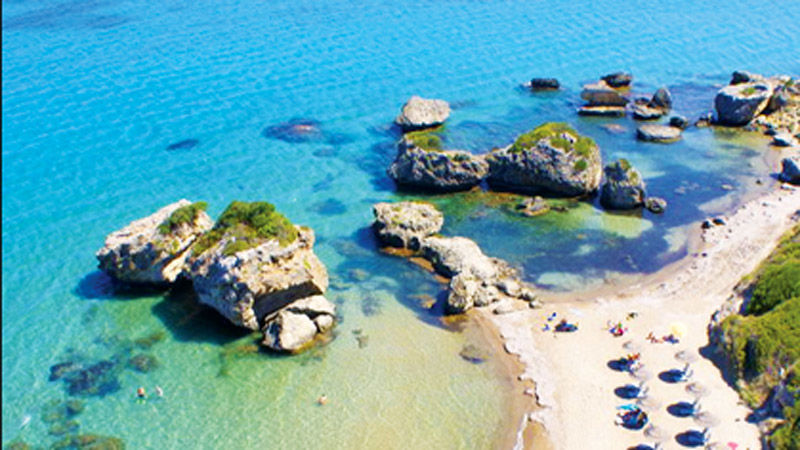 Porto Zoro
Close to a large hotel, this beach is nevertheless peaceful, with clear shallow water and dramatic rocky outcrops. There's sulphur in the sand here – which people rub into their skin to exfoliate.
Getting there...
The beach is just 20 minutes from Periyali.
Footnotes...
Excellent beach facilities include a beach bar, parasols, sunbeds and even a children's play area.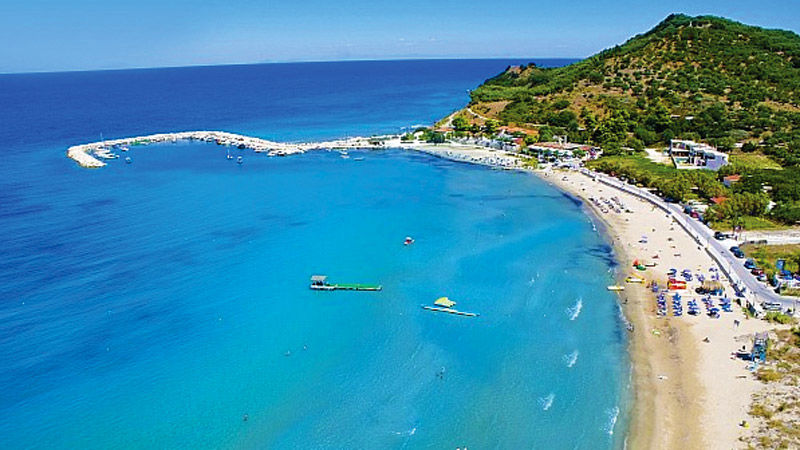 Alykanas
This long, narrow stretch of sandy beach close to the low-key resort of Alykes is fully serviced, with tavernas, cafés and many watersports centres.
Getting there...
At the far end of the island, Alykanas is just over an hour's drive from Periyali.
Footnotes...
Boat trips to Shipwreck beach and the Blue Caves depart from Skinari lighthouse and St Nicholas Port.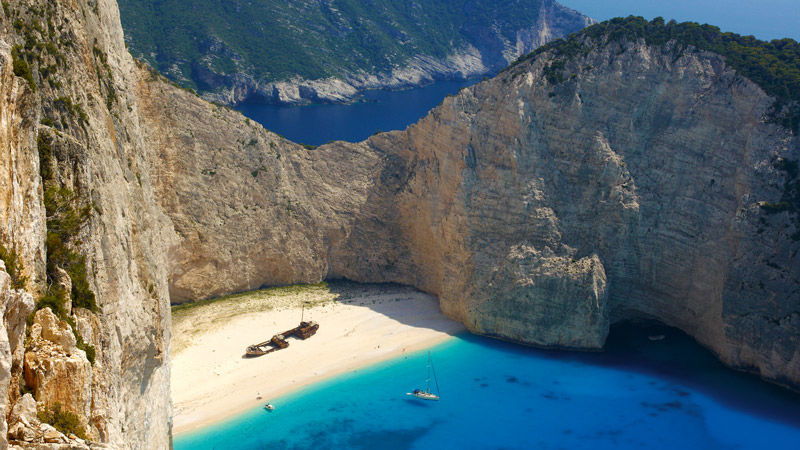 Shipwreck beach
Also known as Smuggler's Cove and Navajo Bay, this spectacular horseshoe of white sand is encircled by dramatic cliffs – and there's even a shipwreck, half buried in the sand.
Getting there...
Accessible only by boat from Porto Vromi or St Nicholas Port.
Footnotes...
There are no facilities at Shipwreck, but the beach is all the more serene for it.
Things to do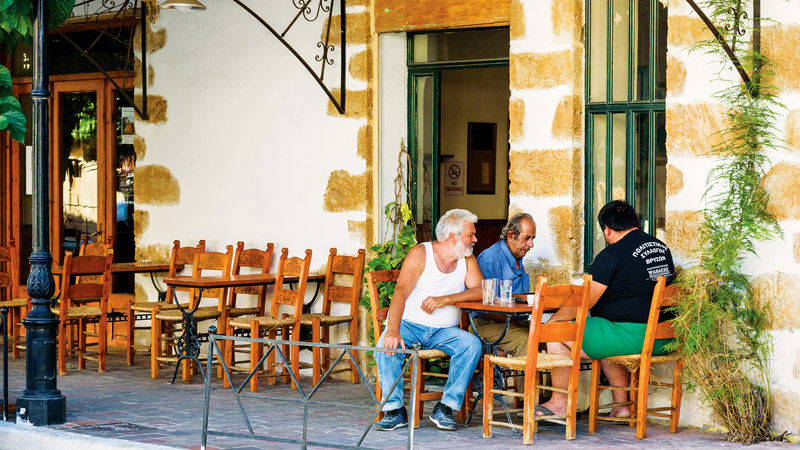 Go North
Zakynthos' wild side offers some beautiful vistas far from the madding crowds. The narrow lanes of traditional hill villages like Exo Hora and Volimes offer welcome relief from the midday sun, as does the Anafonitria Monastery where St Dionysius, the island's patron saint, spent his final years.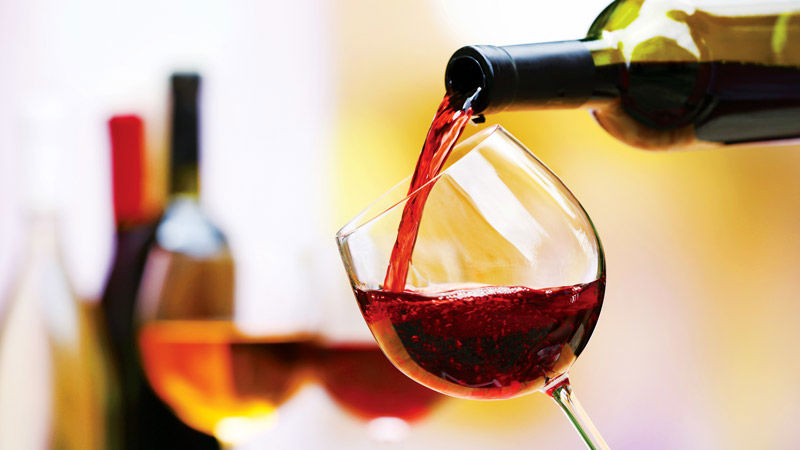 Visit a winery
There are 110 different varieties of grape grown in Zakynthos – across 19,000m2 of vineyard. A visit to a local winery, such as Oenolpi near Macherado, comes with a bonus peek at some of the few remnants of Venetian architecture on Zakynthos.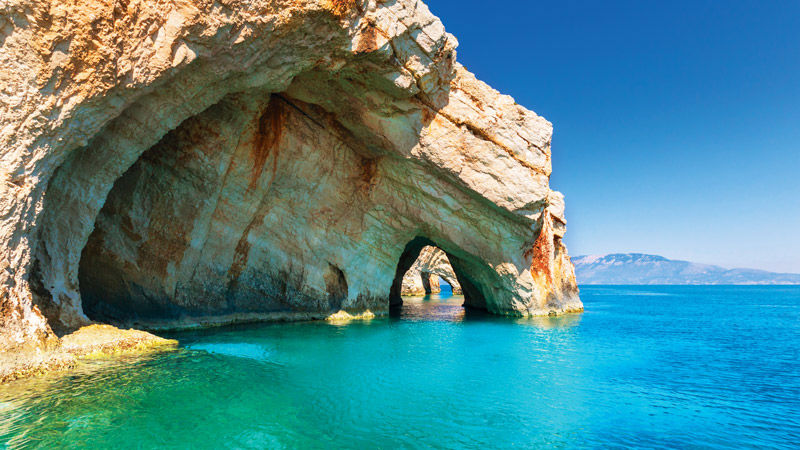 Experience the blue caves
A speedboat ride to the limestone caves beside Shipwreck beach is an invigorating start to the day – arrive early to increase the likelihood of having this magical place to yourself. Beyond the caves' entrance, the waters are perfectly translucent, creating mesmerising patterns on the ceiling above.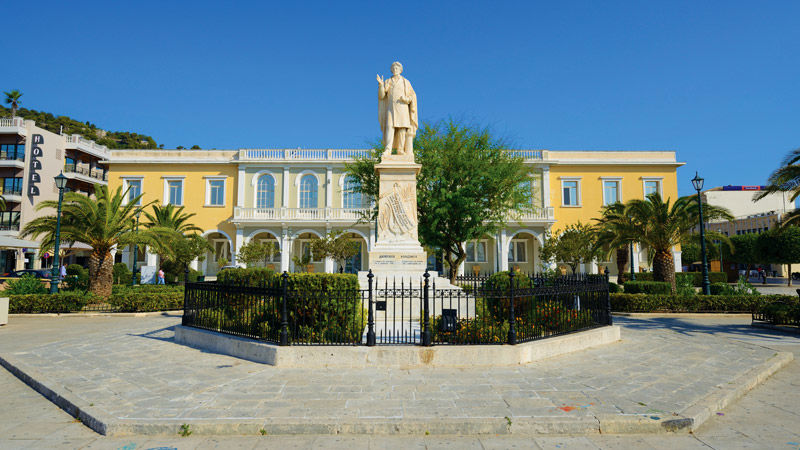 Explore Zakynthos Town
The island's biggest, most historic town has plenty to offer the beach-weary visitor and those in search of a little cosmopolitan chic. After a coffee in the perfect people-watching spot of Solomos Square, why not treat yourself at one of the nearby boutiques?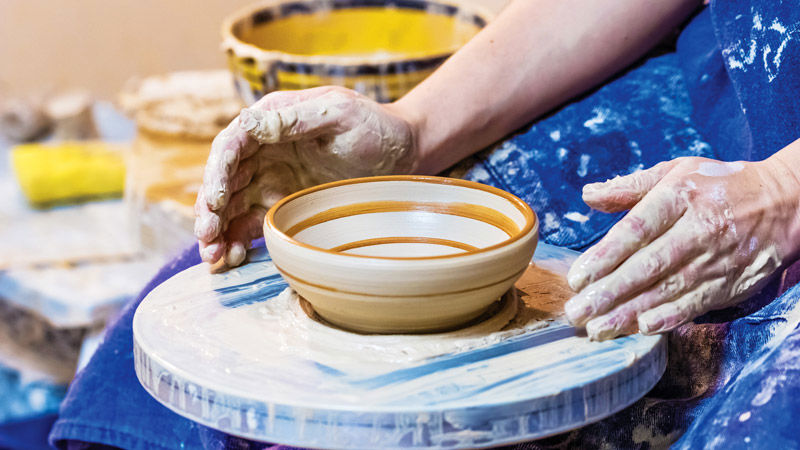 Get behind the wheel
Trying your hand at pottery is a memorable family experience – and the perfect opportunity to create your own heart-felt souvenir to take home. The pottery welcomes adults and junior potters alike, with instruction available for those who need it.
Visit Keri village
The ancient stone houses and narrow streets of this pretty village are one of the few glimpses of pre-quake life on Zakynthos. Perhaps the cliff-top that's been guiding ships round the headland for over a hundred years served as Keri's lucky omen in 1953.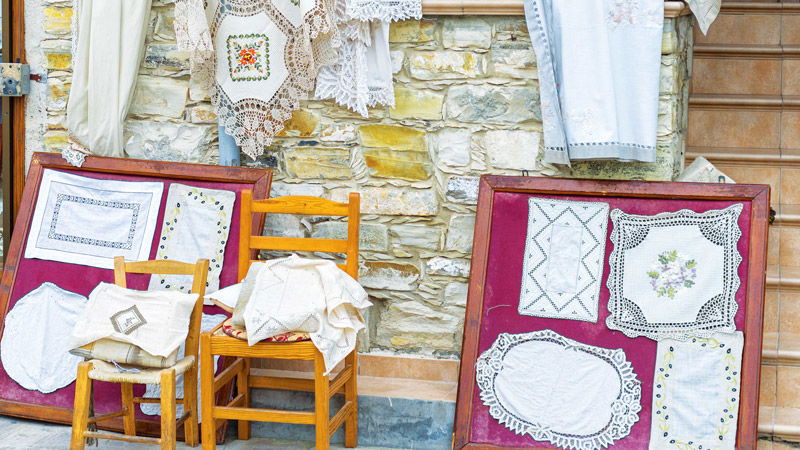 Help preserve a way of life
The women of Kiliomenos village are famed for selling handmade and organic products using traditional recipes and techniques. Buying virgin olive oil, wine, honey, handmade lace and handcrafted jewellery direct from the producers is a heartwarming act – and keeps the island's artisan spirit alive.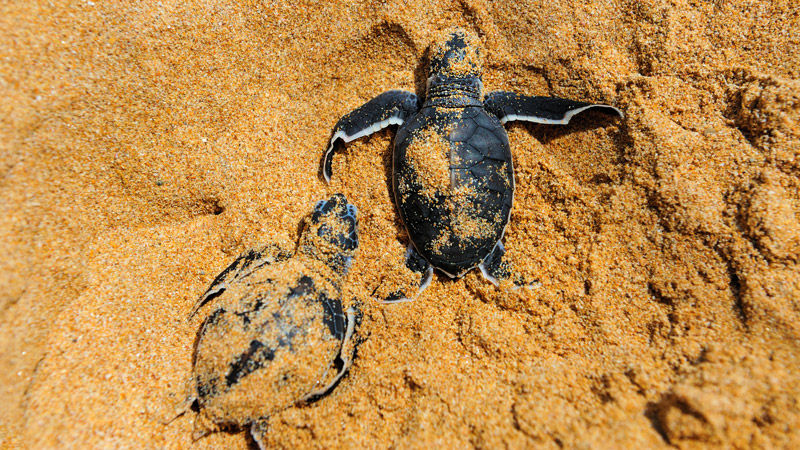 Encourage a turtle into the sea
Gerakas, the most southerly of the island's beaches, is also its most beautiful – and a nesting site for the endangered loggerhead turtle. Seeing a tiny hatchling climb into sunlight and make for the waves is an emotional experience and one you'll never forget.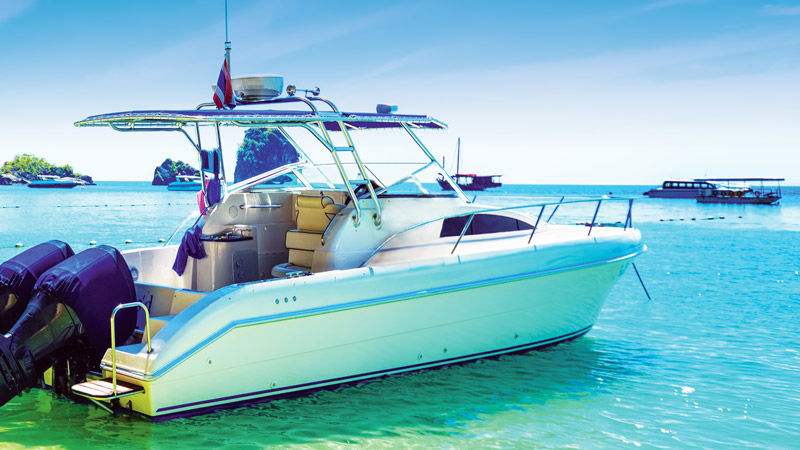 Hire a speed boat
Secret coves and secluded bays are often the island's most idyllic spots. Why not head off in search of your very own secret cove from which to swim, snorkel or even fish? Those in the north of the island are furthest from the bustling beaches.
Helpful phrases
| | |
| --- | --- |
| Hello | Γεια σou (Ya soo) Informal, Χαίρετε (He-re-teh) Formal |
| Good-bye | Γεια σου (Ya soo) Informal, Γειά σας (Ya sas) Formal |
| Please | Παpακαλώ (Pa-ra-ka-lo) |
| Thank you | Eυχαpιστώ (Ef-ha-ri-sto) |
| Yes | Ναι (Neh) |
| No | Οχι (o-hee) |
| How are you? | Tι κάvεις; (Tee ka-nis?) Informal, Τι κάνετε; (Τee ka-ne-teh?) Formal |
| I'm fine, thank you | Είμαι καλά, ευχαριστώ. (Ee-meh ka-la, ef-ha-ri-sto) |
| I don't understand | Δεν καταλαβαίνω. (Then ka-ta-la-veh-no) |
| Do you speak English? | Μιλάς αγγλικά; (Mi-las an-glee-ka?) |
| My name is.. | To όvoμά μoυ είναι... (To o-no-ma moo ee-neh…) |
| The bill, please | Toν λογαριασμό, παρακαλώ. (Ton lo-ga-ree-as-mo, pa-ra-ka-lo) |
| How much is it? | Πόσο κάνει; (Po-so ka-ni?) |
Events
Easter is the biggest event on the Greek calendar, marked by traditional processions, masses and feasting. The date changes each year and is often later than in the UK.
What's on in May
1 May
Labour Day is a public holiday, celebrated with picnics and the gathering of spring flowers. Many shops close but restaurants remain open.
3 May
Feast of Agia Mavra, Maherado, marked by a night of prayer in the village church.
21 May
The Ionian Islands commemorate their official unification with Greece which took place in 1864.
What's on in August
15 Aug
Assumption of the Virgin Mary (Apokimisis tis Panagias) celebrated in and all over the island.
24 Aug
Feast day of Agios Dionysios, patron saint of Zakynthos, celebrated with fireworks and grand processions.
End Aug/early Sep
Wine festival in Zakynthos Town.
What's on in September
8 Sep
The Virgin Mary's birthday (Genisis tis Panangias) is celebrated throughout Greece with religious services and much feasting.
What's on in October
28 Oct
'Oxi' Day ('No' Day) celebrates the Greek refusal of Italian occupation during WWII with marches, parades and much flag flying. 
The Road Less Travelled
We asked our local representatives in Zakynthos to share a few of their favourite 'off the beaten track' experiences. Here are some of their suggestions…
Snorkel the wild west
Lovers of snorkelling and untamed beauty alike will find the island's west coast magnificent for swimming. Limnionas – better known as the Blue Lagoon – is one of many idyllic rocky coves here, complete with turquoise translucent waters and surrounded by impressive wild landscapes. A variety of fish can be seen in the waters – along with the odd boat's crew stopping by for a dip.
Discover a secret windmill
Nestling secretly in the pine-covered northern hills near Askos sits a windmill. It's painted in the typically Greek colours of blue and white – with the vibrant pink of bougainvillea adding the accent colour. This quaint building has been charmingly converted for use as a wonderful restaurant and offers spectacular views across the north of the island and across to Kefalonia in the distance.
Witness a magical sunset
At 40-feet high, the stone cross of Kampi stands defiantly over one of the highest cliffs on Zakynthos. It overlooks the Ionian Sea to the west of the island in commemoration of the soldiers of the Second World War who lost their lives during the occupation of the island. Choose to pay your respects here in the evening and you'll be treated to the island's most beautiful sunset.
Climb to an ancient monastery
Perched atop Mount Skopos sits the recently renovated monastery of Panagia Skopiotissa. This important historical treasure offers sweeping views of the island's lush green beauty all around. But be warned; the twisting, turning road up to the top comes with sharp bends and steep drops: certainly one that's best enjoyed on foot.
Meet Zakynthian animals
A stunning valley in the pine-clad north of the island is home to Askos – a stone park with stables and basins cut into the rock for the many animals who live there. Visitors are greeted by deer and peacock, which roam free within the grounds, along with goats and wild hawks. A beautiful walk in one of the island's most picturesque spots.